Resources
ENROLLMENT & CREDENTIALING
FORMS & MANUALS
POLICIES & GUIDELINES
PROGRAMS & INITIATIVES
PROVIDER NETWORKS & SPECIALTIES
Back
Blue Advantage Part B Provider-Administered Drug Precertification Program
Effective August 1, 2023, precertification will be required on Part B provider-administered drugs for your Blue Advantage® patients. If precertification is not obtained, coverage will not be provided under the plan for the provider-administered drugs. Precertification is managed by Magellan Rx Management.
Patients receiving medication on the precertification drug list prior to August 1, 2023, have an authorization in our system through December 31, 2023, for continued claims payment. On January 1, 2024, continued coverage will require valid precertification through Magellan Rx.
Precertification will be required for the drugs indicated on the Blue Advantage Part B Provider-Administered Precertification Drug List when administered in the following places of service:
Physician office (POS 11)
Patient home (POS 12)
Outpatient facility (POS 19, 22)
Gene therapy/cellular immunotherapy drugs indicated on the drug list require precertification in all places of treatment.
You will be able to initiate or check the status of a precertification for eligible patients by clicking the appropriate "Go" button on the Additional Coverage tab in Eligibility and Benefits.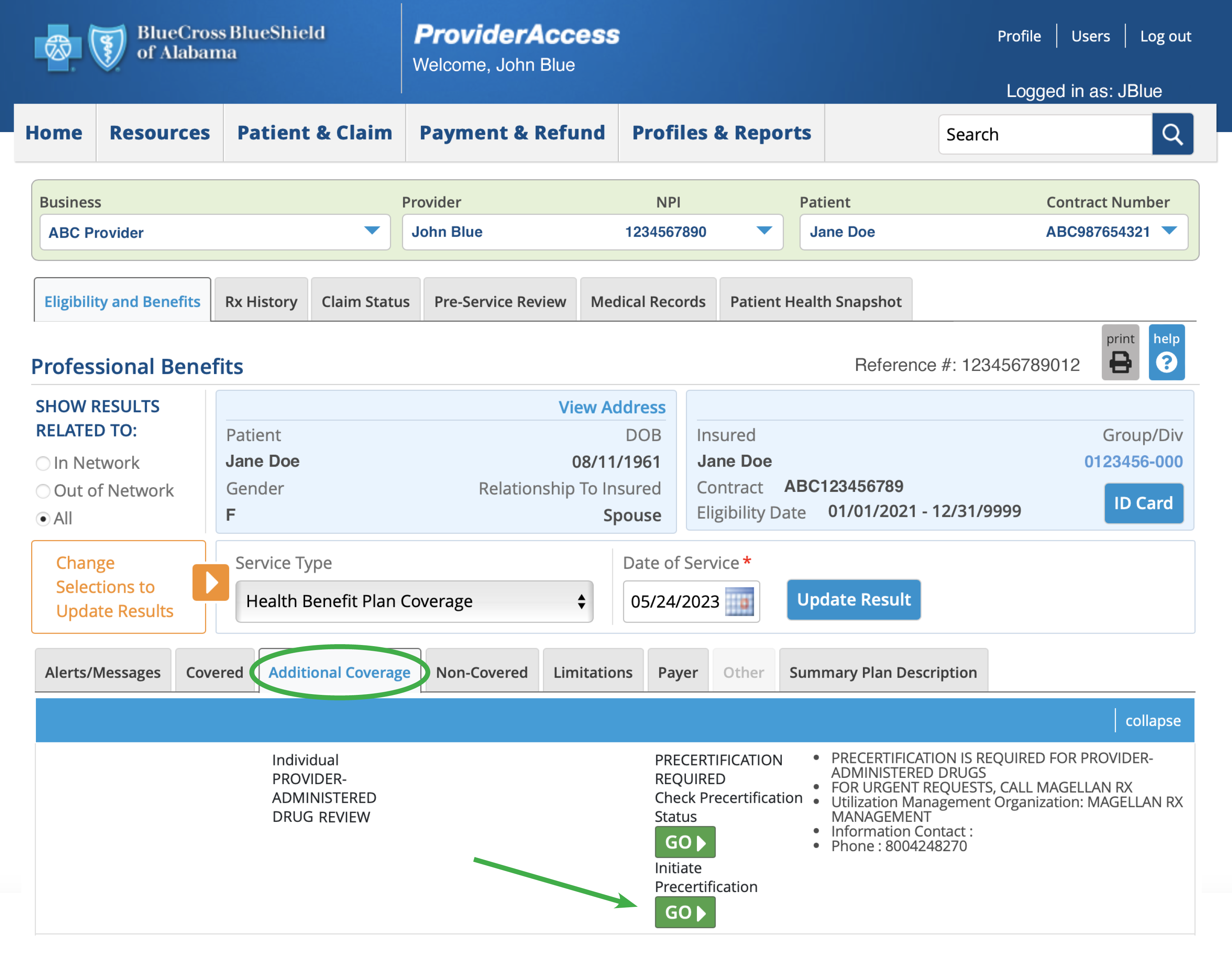 For additional information, review our medical and drug policies at AlabamaBlue.com/Providers/Policies.
Magellan Rx ManagementSM is an independent company providing medical review services on behalf of Blue Cross and Blue Shield of Alabama.
Node:bclrprvappp1001.corp.bcbsal.org:8080