Resources
ENROLLMENT & CREDENTIALING
FORMS & MANUALS
POLICIES & GUIDELINES
PROGRAMS & INITIATIVES
PROVIDER NETWORKS & SPECIALTIES
Dynamic Rendering Portlet
Patient Experience Surveys
Create a positive experience for every patient.
Consumer Assessment of Healthcare Providers and Systems (CAHPS) Survey
CMS' annual CAHPS survey asks a random sampling of a plan's Medicare Advantage members to report on and evaluate their healthcare experiences. The survey is administered in early spring each year and focuses on aspects of quality that patients are best qualified to assess. The results of the CAHPS survey indicate what really matters to patients.
Why you should care about the CAHPS survey:
Incentives - The CAHPS survey results affect our ability to offer incentives to you through the Blue Advantage® Primary Care Incentive Program.
Patients' Health Coverage - The CAHPS survey results affect our ability to continue to offer the Blue Advantage plan to your patients.
Value-Based Payment - Several of the online Rate Your Doctor survey questions are very similar to CAHPS questions. Rate Your Doctor survey results count toward the Primary Care Select Program Patient Focus category for value-based payment.
CAHPS Patient Survey Sample Questions
Rate Your Doctor Survey
After an Annual Wellness Visit, a Blue Advantage patient will have an opportunity to complete a survey to assess his or her experiences. The Rate Your Doctor survey results are displayed under Patient Satisfaction within a physician's profile on AlabamaBlue.com/FindADoctor (see an example below).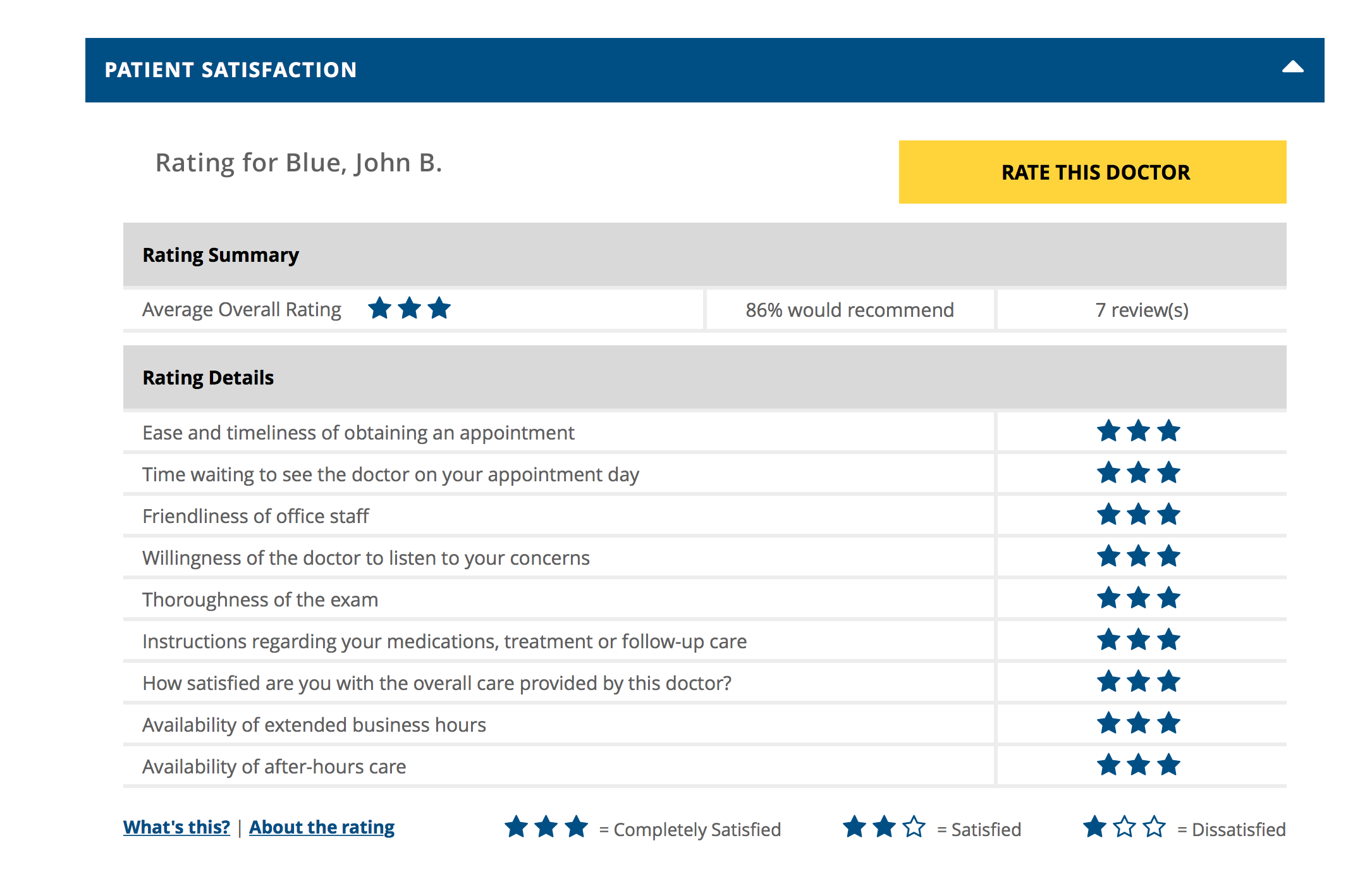 Administrative Staff: Exceptional Care Starts With You
The CMS CAHPS survey measures patient experiences with healthcare by asking questions such as:
Did the patient get an appointment for routine care as soon as needed?

Was the patient seen within 15 minutes of his or her scheduled appointment time?

If the patient needed urgent care, was he or she seen as quickly as possible?
You play an important role in helping us improve our members' experiences. When patient loads are heavy, acknowledging your awareness of a patient's wait time can make a big difference to the patient. If a patient needs urgent care, you can make sure your providers are aware. Remember, your interaction with patients often influences how they feel about and rate their healthcare experiences.
Providers: What will the CAHPS survey results say about you?
Your patients with Blue Advantage plans may be asked the following CAHPS survey questions:
Did you see your provider within 15 minutes of your scheduled appointment time?*

Was it easy to get care, tests or treatments?*

Did your provider show respect for what you had to say?**

Did your provider listen carefully?**
* These questions are also included in the "Rate Your Doctor" survey.
** Most recent CMS score is below the benchmark.
Node: bcbslrprvappp04.corp.bcbsal.org